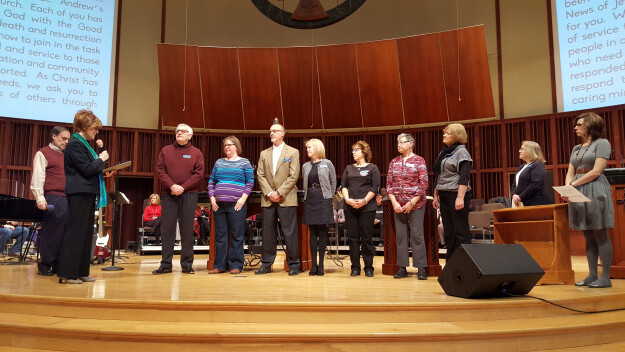 St. Andrew's is a supportive community, offering prayers, assistance and encouragement to those going through some of life's most difficult times. We are here for you when you need us. See below for a variety of programs offered at various times throughout the year. These opportunities are open to all in the community, you do not need to be a member of the church to participate.
Contact Pastor Nita for more information.
Prayers
We want to pray for you. Be sure to submit your prayer requests here.
ALZHEIMER'S CAREGIVER SUPPORT GROUP
A monthly support group for caregivers and families that is a safe, confidential group of informal and informational mutual support. The group will explore what works in care-giving and will help participants develop methods and skills in care-giving and self-care.
Email Pastor Nita Hinds-Park for further information.
DivorceCare
Relationships are hard... and hard work. Unfortunately, sometimes they don't work. The Divorce Care ministries of St. Andrew's are committed to providing holistic support for those who are, or have, experienced the pain of broken relationships and for those hoping to build healthier relationships into the future. DivorceCare is a 13-week support group providing information and encouragement in the recovery process. You can learn more here. Watch the Adult Ministries calendar for our next session.
Financial Peace University
Through Dave Ramsey videos, discussion, and assignments, you will learn how you and your family can get out of debt, stay out of debt, and build wealth in a series of 9 classes. We offer this program at various times throughout the year. Watch the Adult Ministries calendar for our next session.
GriefShare
When a loved one or friend dies, grieving that loss can take a long time, but you are not alone. GriefShare is a 13 week support group that provides encouragement and reminders of the recovery process. You can learn more about GriefShare here.
STEPHEN MINISTRIES
A Stephen Minister is a specially trained lay member of St. Andrew's

congregation who has gone through 50 hours of training. They are caring, supportive Christian people who have a desire to be with you in a time of need, grief or loss. Each meets with his or her care receiver once a week for about an hour to provide spiritual and emotional encouragement. The caring relationship lasts for as long as the person needs care. Stephen Ministers are trained to help people experiencing the following areas of concern: death of a family member or close friend, divorce, change in health or a hospitalization, childbirth, financial challenges, problems at work, retirement, and many others.
Contact Catherine Threlkeld or Pastor Nita Hinds-Park to learn more.