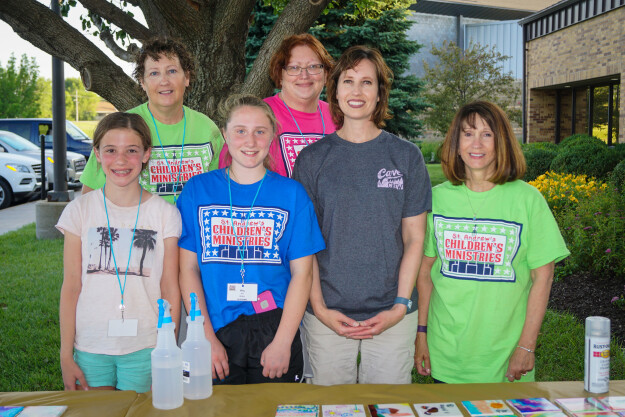 We can't fulfill the St. Andrew's Mission: To Share the Gospel of Jesus Christ, without many faithful servants who volunteer their time and talents to the church. Volunteering is a great way to make new friendships and support the congregation. There are many ways to plug in, and if you are not sure where to start you can fill out our Skills and Talents Inventory!
Serving at St. Andrew's
Adult facilitators
Adult small group classes are an integral part of faith development. We offer classes of various topics from Bible study classes to classes of relevant societal interests.
If you have a class subject suggestion or if you would like to learn more about becoming a class facilitator, please contact Pastor Mandy Barkhaus.
Teaching and leading our children and youth are one of the most important things we can do as Christians. Not only will the kids get something out of this, but you will as well. Get plugged into these important ministries.
Contact Sarah Archer (preschool & elementary school)
Contact Jake Wiese (middle school & high school)
Radical Hospitality Team
Our radical hospitality team ensures that everyone who walks through our doors is greeted with a warm welcome. We are always looking for ushers, greeters, information desk help and coffee set up and clean up volunteers.
Contact Debbie McGovern to find a place on our hospitality team.
Special Events
Special Events are a great one-time commitment. Check out our calendar for upcoming events and volunteer opportunities or feel free to contact the to get plugged in!
Take Home Team
The take home team is a group of volunteers who are willing to work on various projects from home. Projects may include stuffing envelopes, labeling, cutting and a variety of other simple tasks.
Contact Shawna Rector to get added to our take home team list.
Worship Team
There are many things that happen behind the scenes and out front for each worship service. Serving communion, reading scripture and assisting with altar decorations are just a few of the ways you can get plugged into the worship team.
Contact Kristin Fisher to join our worship team.