At St. Andrew's we offer both short and long term opportunities to study the Bible and grow deeper in your faith. We also offer periodic support groups that give you a chance to connect with others who might be going through similar life experiences. These groups typically meet at the church for a specific study and over a specific period of time. For more information on upcoming Bible Studies or Support groups contact Mandy Barkhaus.
St. Andrew's Lent Challenge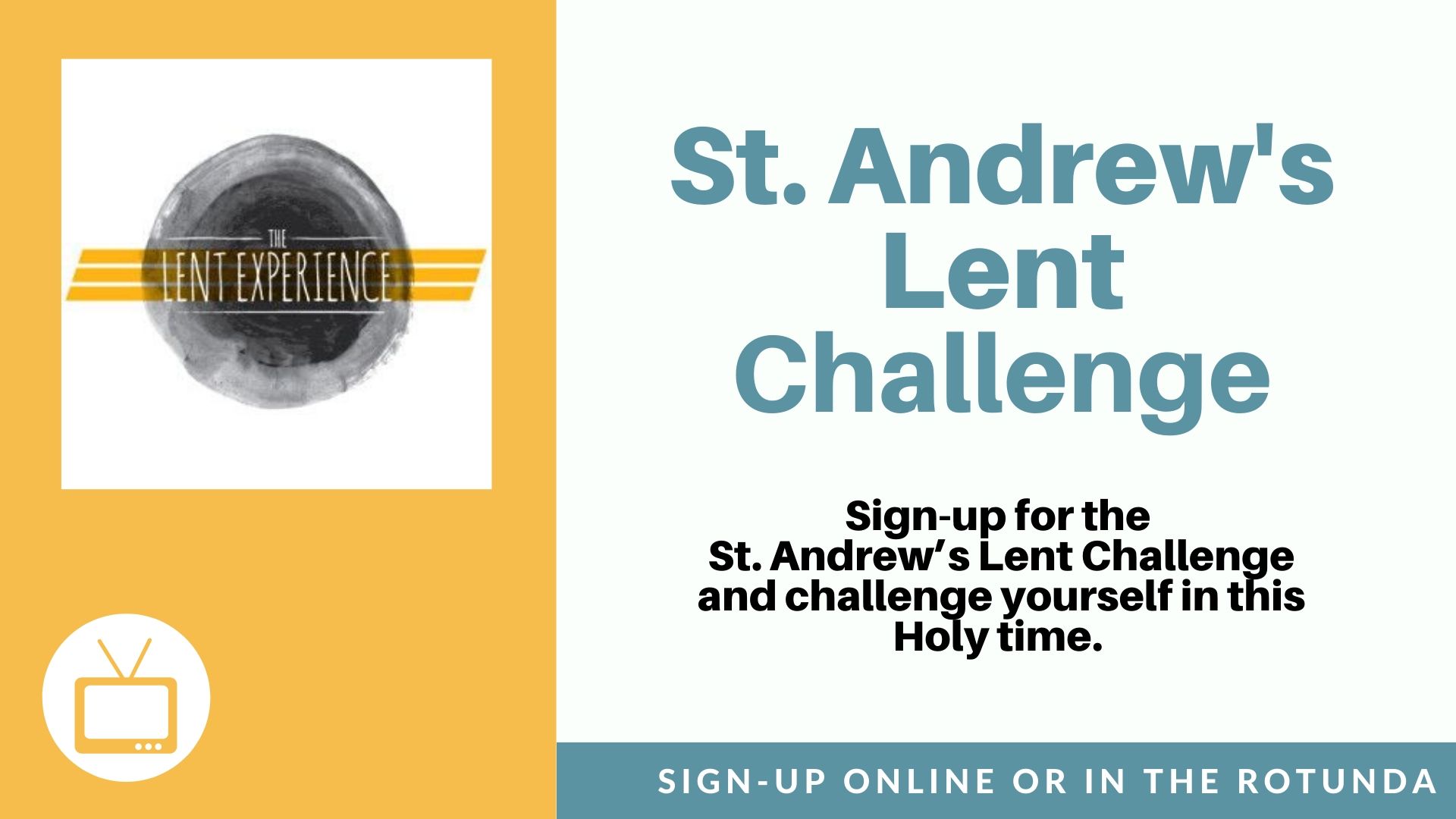 What happens when you take 2,000 years of a Christian tradition, capture the heart of it, and re-imagine it? Whether you're a veteran of observing Lent or a rookie who is jumping in for the first time, you can join thousands of people for an experience that just may surprise you.
It's simple. You watch a short video on Ash Wednesday that kicks the whole thing off. Then, each Sunday until Easter you will watch a short video that will give you your Lent Experience challenge for the week. The challenges are based on things that have been a part of Lent for centuries.
Register Here
New Testament Study
Disciple I Fast Track, an adaptation of the original, bestselling Disciple Bible Study, provides a viable option for busy people seeking comprehensive engagement over time with the entire biblical text.
When: Thursdays, January 16- April 16
Time: 6:30 - 8:00pm
Where: Lower Level Classroom 1
Facilitator: Patty Corwin
Cost: $20 for the book (scholarships available)
Register Here
Tuesday Morning Bible Study
Join others and learn about Jesus through different book studies. You can sign-up for all of the sessions OR just the ones that fit in your schedule or that you find interesting.
When: Tuesdays
Time: 9:30-11:00am
Where: Lower Level Classroom 1
Facilitator: Debi Buck
Cost: $5 per study
Register Here
Study Opportunities:
January 7 - February 25: 'Bad Girls of the Bible and What We Can Learn from Them'
March 3 - April 7: (Lenten Study) Adam Hamilton's 'Final Words From the Cross'
April 14 - May 12: John Ortberg's 'Eternity is Now in Session'
Bible Study with Pastor Bruce

Pastor Bruce will lead a 10-week study on Paul's letters to the Thessalonians. Paul begins his letter by telling those ancient Christians that he constantly gives God thanks and praise for their, "work of faith, labor of love and steadfastness of hope in our Lord Jesus Christ." Come discover what these steadfast saints from 2000 years ago can teach us St. Andrew's saints today about loving God, knowing Jesus and serving the community!
When: Tuesdays, February 4-April 7
Time: 6:30 - 7:45pm
Where: Lower Level 4 (LL4)|
Facilitator: Pastor Bruce Emmert
Cost: None, just be sure to bring your Bible!
Register Here
Financial Peace University
Planning for the future is hard when you're still paying for the past! Listen—there's a better way! Join our Financial Peace University class, and you'll learn how to beat debt and make a plan for the future . . . together!
When: Tuesday, February 4 - March 31
Time: 6:30-8:00pm
Cost: $99 per family
Register Here
Free Childcare (register here)
Forgiveness
"If your enemies are starving, feed them some bread; if they are thirsty, give them water to drink." Proverbs 24:17 (CEB)
There is nothing more crippling than holding on to anger. Anger, more than any other emotion, has the power to consume all aspects of our lives, distort our sense of purpose, and destroy our relationship with God. In the passionate and life-changing book Forgiveness: Finding Peace Though Letting Go, Hamilton argues that revelation comes when we realize that forgiveness is a gift we give ourselves rather than to someone else.
When: Sunday, February 9 - March 15
Time: 8:45-9:45am
Where: Lower Level Classroom 2 (LL2)
Facilitators: Pam Nelson and Cindy Heidelberg
Book: Adam Hamilton 'Forgiveness' If you need the church to order it for you the cost is $12. (If the cost is an issue, please let Pastor Mandy know)
Register Here
Bible Study: Just Walk Across the Room
The thought of "evangelism" can be intimidating, don't you think? Not so when you "Just Walk Across the Room" This study is about personal evangelism with a natural, relational approach that follows Jesus' own example. When Jesus launched his public ministry, he had no formula and no script-just an offer of grace and peace to people like us, with whom we have contact inside AND outside the walls of St. Andrews. The author invites us to step out of our "Circle of Comfort" and into encounters with people who long for someone to take an interest in them. People who are searching for comfort, peace and strength in their lives. And we can be that someone by reaching out to them with our smile, our encouragement, our transparency, and our friendship. Find out how you can make the difference of an eternity for someone standing near you in a natural and personal way. It all starts with a walk across the room.
When: Thursdays starting Feb 6
Time: 6:30-7:45pm
Where: Lower Level 4 (LL4)
Facilitator: Jon Radebaugh
Cost: $20
Register Here
Women's Wednesday Morning Bible Study: 'Nice'
God never called us to be nice.
We live in a culture that prizes niceness as one of its highest virtues. Niceness keeps the peace, wins friends, gains influence, and serves our reputations well, but it also takes the teeth out of our witness and the power out of our faith. When we choose to be nice instead of faithful, we bear fruits that are bland, bitter, empty, and rotten to the core.
In this 5-session series based on her book, Sharon Hodde Miller explores the seemingly innocent idol that has crept into our faith and quietly corrupted it, producing the bad fruits of cowardice, inauthenticity, shallowness, and more. She challenges readers to cultivate a better "tree," providing practical steps to reclaim our credibility as followers of Christ, and bear better, richer, more life-giving fruits.
When: Wednesday Feb 5
Time: 9:30-11:00am
Where: Lower Level 1 (LL1)
Facilitator: Kathy Anthes
Register Here
The Walk (Lenten Study)
How do we walk with Christ - daily follow him, grow in him and faithfully serve him? In The Walk, Adam Hamilton focuses on five essential spiritual practices that are rooted in Jesus' own walk with God and taught through the New Testament.
When: Wednesday, March 4 - April 8
Time: 6:30 - 8:00pm
Where: Lower Level Classroom 1 (LL1)
Facilitator: Debi Buck
Cost: Pick up a book or have the church order one for you $20. If the cost of the book is an issue, please let Pastor Mandy know ( ).
Register Here