Easter at St. Andrew's!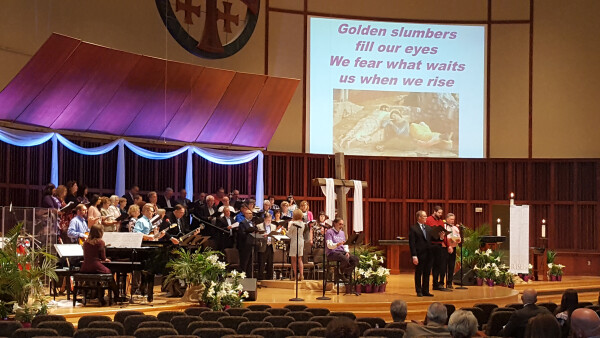 Ash Wednesday Service
Wednesday, March 6 at 6:30 p.m.
Join us after the soup supper for a service in the Sanctuary at 6:30 p.m. as we focus on the themes of sin and death in light of the hope we have of God's redeeming love in Jesus Christ. With ash, we will receive the sign of the cross on our foreheads and think about our own sin and mortality. We will also partake in Communion.
TOGETHER Lenten Study
We want EVERYONE to participate this year in study and growing this Lenten Season. There are several options for adults to participate in the study! We have multiple options:
TOGETHER (children, youth and adults)
- Wednesdays, 6:30-7:30 p.m. (meal at 5:30) March 13 - April 10
Other Opportunities
- Sundays, 11:15 a.m. -12:15 p.m. (snacks provided) March 17 - April 14
- Host your own group
- I can't attend a group setting but I'll commit to doing it on my own!
SIGN UP HERE
Palm Sunday Services, April 13 & 14
Shout Hosanna! Hosanna! with us on Palm Sunday as we wave our palm branches and remember Jesus' triumphant entrance into Jerusalem. The room will be filled with song and the story of Christ's journey to the cross as the St. Andrews' Singers & Orchestra present the Cantata: "Witness – Revealing the Power of the Living Christ."
Maundy Thursday: A Shared Meal, April 18 at 6 p.m.
Come for a family style meal interwoven with readings and interactions of some of Jesus' last encounters on earth. The meal will start at 6 p.m. and will end with prayer in the Mount of Olives at 7:30 p.m.
Good Friday: A Time to Weep, April 19 at noon & 6:30 p.m.
Come experience a service to meditate on the darkness of Jesus' death and the hopelessness of a world without God.
Easter Eggstravaganza, April 20 from 1-3 p.m.
Join us for this free event. Families with children of all ages are welcome to join us for an egg hunt, petting zoo, activities, snacks and fellowship.
Easter Weekend Services, April 20 & 21
Join us as we celebrate the Resurrection of Jesus Christ. Easter services will be Saturday at 5 p.m. and Sunday at 8:30 and 10 a.m. You are also invited to join us for breakfast prior to the 8:30 a.m. service.