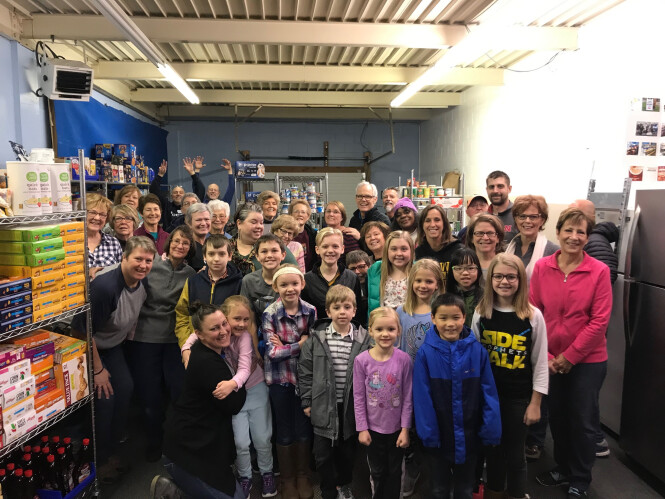 Serving Our Community & World
St. Andrew's is a Jesus-focused community of faith dedicated to serving in our community and world just as Jesus came to serve us. We believe that through service we shine God's love into the world and become more like Jesus.
Carefully focusing our mission work on two main areas of need helps us use our resources more effectively as we live out God's mission and vision for our church.
Overcoming Poverty Together
Christ calls us to be in ministry with the poor and marginalized. We lace our emphasis on standing with those in need, listening to their struggles, seeking to understand their needs and working with them to achieve their goals. It means that we will seek to address the causes and addressable impacts of poverty so that we can respond in ways that build up individuals and the community.
Ministries Include: Bless Our Schools Partnership, Backpacks for Hunger, Habitat for Humanity, Siena Francis Lunches
Seeking Health & Wholeness for All
Knowing that poverty and health are intertwined, we know the importance of promoting initiatives that improve well-being. In partnership with the UMC as a whole, we have the ability to support programs that seek to combat diseases of poverty such as malaria, HIV/AIDS and tuberculosis. We also have an opportunity in our own community to address health and wellness through a variety of initiatives.
Ministries Include: Blood Drive, Big Garden Project, Victory Boxing Partnership
Check out our events page for a upcoming serving opportunities!
Serving Our Church
Another way to serve is through the church. It takes hundreds of people just like you for us to execute a weekend worship service, hold youth group, provide ministry to our children and accomplish our vision for this church and community each week. We can't do it without you. There are lots of ways to serve, but it can be overwhelming. We suggest you Start Here!
Another way to connect to serving opportunities is through our Skills and Talents Inventory. We love when people fill this out, that way when we have opportunities to serve that match your gifts we can contact you and get you plugged in.