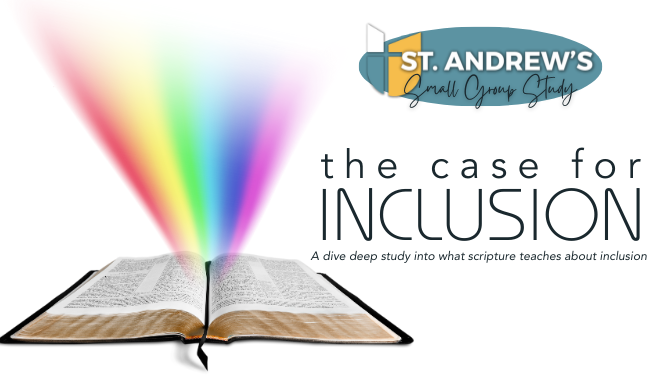 Every
,
11:15 AM - 12:15 PM
Sunday Mornings, 11:15 a.m. - 12:15 p.m.
Dates: June 25 - July 9 (3 weeks)
Location: TBD
Group Leader: Pastor John
At St. Andrew's, we have committed to "embrace and celebrate the diversity of all peoples." This is surprising to many people in Christian circles, and we often find ourselves having to explain our values to other people of faith.
Have you wanted to be inclusive but found your preconceptions about the Bible getting in the way?

Do you have family or friends who challenge your value of embracing and celebrating LGBTQ people?
We want to dive deep into what Scripture teaches about welcome and inclusion and give practical next steps for people who want to be inclusive and want to be ready to have meaningful conversations with friends and family.
We will meet after worship for three weeks in June and July. There will be helpful content each week, so even if you aren't able to be there every time, please sign up! Everybody who registers and attends The Case for Inclusion will get a free St. Andrew's T-shirt!
Bring the whole family! The Case for Inclusion will be age-appropriate for middle school-age and up, and childcare will be available for elementary, pre-school, and nursery age kids.